SOFT WASH ROOF CLEANING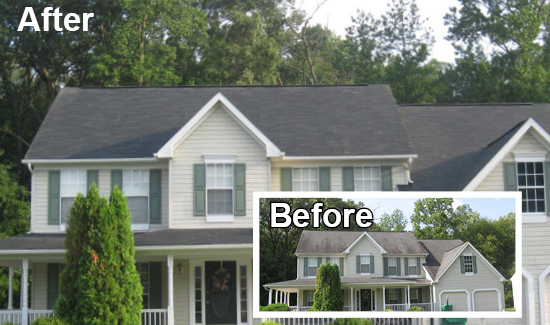 We specialize in making ugly dark stained roofs look new again! Many Hockessin homeowners make the mistake of assuming the only solution to their roof stain problems (caused by an algae Gloeocapsa magma) is to spend thousands of dollars on a brand new roof for their Wilmington home.
Roof Cleaning is 100% SAFE and it will save you THOUSANDS! Our safe and effective Soft Wash Roof Cleaning method does not require high pressure washing (which can easily damage your roof).
Our process makes your existing Hockessin roof look like new by dissolving and gently rinsing away the unsightly algae that feeds on your shingles – for just a fraction of the cost of premature roof replacement!
Remember…  Roof Stains? Don't Replace. RESTORE!
We offer expert commercial and residential & Multi-Unit roof cleaning services for the following areas. DELAWARE: New Castle, DE; Newark, DE; Wilmington, DE; Hockessin, DE; Middletown, DE; Dover, DE; Camden, DE; Cheswold, DE; Smyrna, DE; Wyoming, DE; MARYLAND: Cecil County, MD; Kent County, MD; NEW JERSEY: Pennsville, NJ; Penns Grove, NJ; Carneys Point, NJ; PENNSYLVANIA: Chester County, PA, Delaware County, PA
SOME OF OUR PROJECTS
We are proud to present you some of our exterior power washing & exterior cleaning projects that have behind them a great team, hard work, and very satisfied clients.
Sparkling Image Roof Cleaning Services For the Following Areas: DELAWARE: New Castle, DE; Newark, DE; Wilmington, DE; Hockessin, DE; Middletown, DE; Dover, DE; Camden, DE; Cheswold, DE; Smyrna, DE; Wyoming, DE; MARYLAND: Cecil County, MD; Kent County, MD; NEW JERSEY: Pennsville, NJ; Penns Grove, NJ; Carneys Point, NJ; PENNSYLVANIA: Chester County, PA, Delaware County, PA. If your not sure if we serve your area, give us a call. (302) 293-9151